Due to more participants than expected the DTAS 2007 conference will take place at:
UNESCO - IHE
(Auditorium)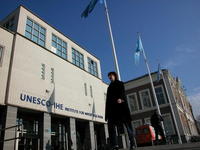 The UNESCO-IHE Institute for Water Education is an international institute for water education that was established in 2003. UNESCO-IHE continues the work that was started in 1957 when IHE first offered a postgraduate diploma course in hydraulic engineering to practicing professionals from developing countries.
All the lunches will be served in "het Meisjeshuis", Oude Delft 112, on just 4 minutes walking distance from UNESCO/IHE.